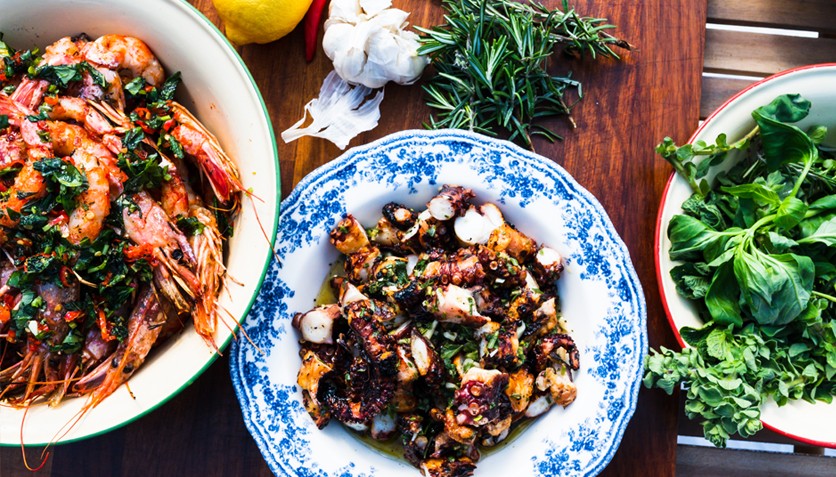 Recipes Γαρίδες
Grilled marinated octopus and spicy Argentin Shrimp

25 min

Εύκολη
Clean the shrimp, removing the shell and the intestine on its back, leaving its head intact; Turn on the BBQ to warm up well and first place the octopus tentacles to cook for 20-25 minutes, turning them around at regular intervals. While you bake the octopus, prepare its marinade and the sauce for shrimp. On a cutting board finely chop the garlic, oregano and rosemary and place them in a bowl. Add the olive oil along with the white vinegar, salt and pepper and stir well. Place shrimps in the BBQ and grill them for 2-2 and a half minutes, while sprinkling with salt and pepper.
For Shrimp sauce
On a cutting board finely chop the chili peppers, basil and mint. Place a non-stick pan and add the olive oil. Sauté the chili peppers slightly, add the ouzo, set on fire and as soon as it goes out remove the pan from the heat and add the lemon juice, basil, mint, salt , pepper and stir well.
For Serving
Remove the octopus and shrimps from the BBQ, cut the octopus into slices and place it in its marinade. Place the shrimp on a cutting board and pour over it with its sauce.

Recipe for 4 people
Ingredients:
2 συσκευασίες χταπόδι πλοκάμι Pescanova
3 συσκευασίες γάμπαρη Αργεντινής Pescanova
Για την μαρινάδα του χταποδιού:
150 γραμμάρια ελαιόλαδο
70 γραμμάρια λευκό ξύδι
1 σκελίδα σκόρδο
2 κουταλιές ρίγανη ψιλοκομμένη
2 κουταλιές δενδρολίβανο ψιλοκομμένο
Για την σάλτσα της γάμπαρης:
100 γραμμάρια ελαιόλαδο
2 chili πιπεριές
100 ml ούζο
Χυμό από ½ λεμόνι
2 κουταλιές βασιλικό ψιλοκομμένο
2 κουταλιές δυόσμο ψιλοκομμένο
Αλάτι
Φρεσκοτριμμένο πιπέρι