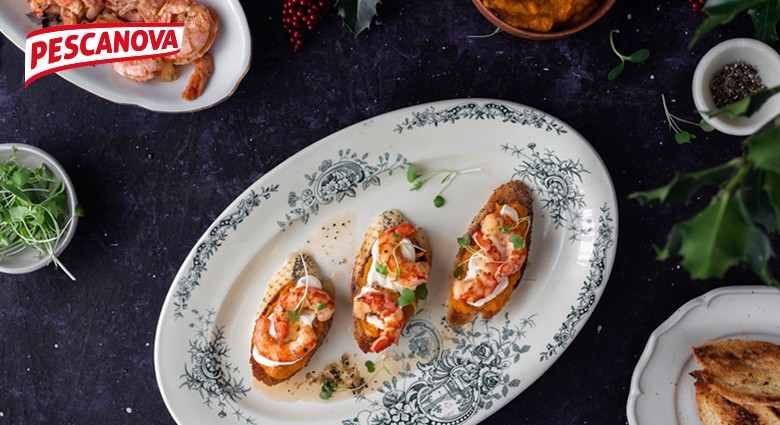 Recipes Εορταστικές
Βruschettas with shrimps and pumpkin
"Μπρουσκέτες με κολοκύθα, τυρί κρέμα και μαριναρισμένες γαρίδες. Ένας υπέροχος συνδυασμός που θα ξετρελάνει και τον πιο απαιτητικό ουρανίσκο."

80 min

Beginner
Put a cookware with shrimps in the middle position of your oven, at 200C for 25′ – 30′. Mix shrimps at half and at the end of the cooking time.
At the same time, on a frying pan, on semi strong fire, add olive oil and garlic. Sauté garlic for 1 minute and afterwards remove it from olive oil.
Add gradually on the pan the bread slices, until they are toasted from both sides. Keep them aside.
Cut pumpkin in half, but removing its inner seeds and fibers.
Afterwards, put 2 pieces on a parchment paper and bake it until the inner is soft. The baking procedure may take 30 to 45 minutes.
Remove it from the oven to cool it down.
Remove with a spoon the soft part from the pumpkin and blend it until it is a puree. Keep it aside.
Blend along the cream cheese until it is fluffy.
On a bread slice, spread 2 tbsp. pumpkin puree and on top add 1 tbsp. cream cheese. Add 2 shrimps without their shells, microgreens and pour over its marinade.

Recipe for 4 people
Ingredients:
600 gr. easy peel shrimps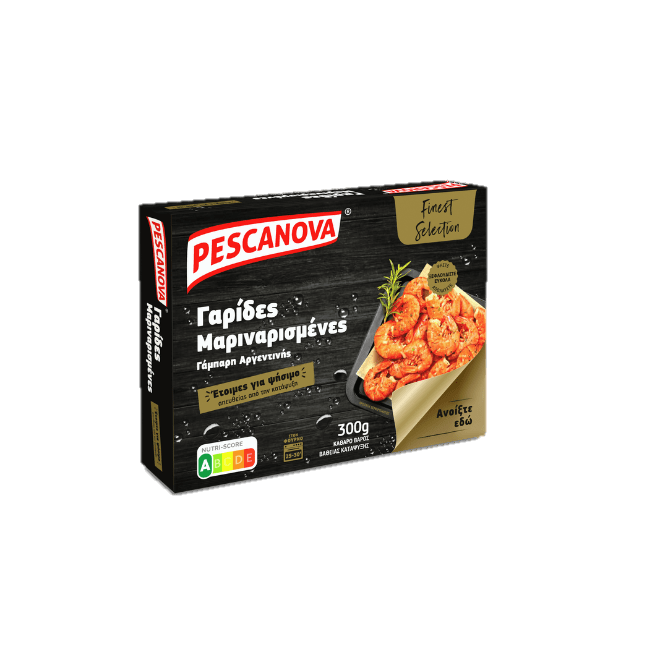 3 tbsp. olive oil
1 garlic clove, cutting in 2 pieces
8 bread slices
500 gr. pumpkin puree (you'll need pumpkin of 1 Kg)
120 γρ. cream cheese
microgreens, for serving