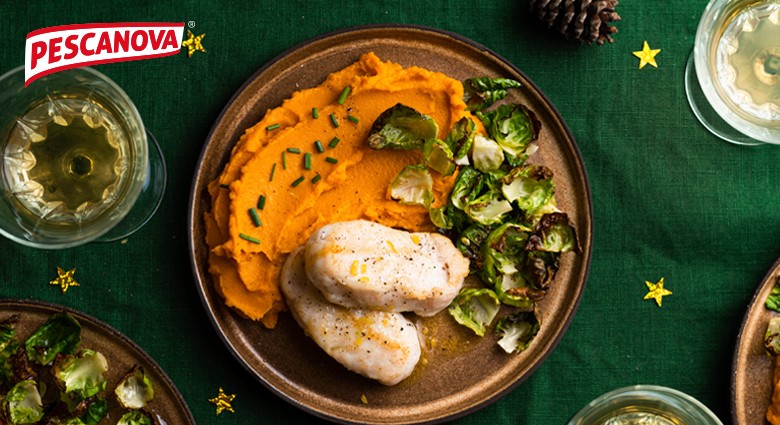 Recipes Εορταστικές
Hake fillets core with sweet potatoes mash and roasted Brussel sprouts

1 hour 20 min

Intermediate
Preheat the oven at 225°C.
Wash potatoes and drill them many times. Afterwards, put them on a baking sheet, cover them with aluminum foil, and bake them for 30 minutes from one side and 20 minutes from the other side.
Once they are ready, remove potatoes from the oven but do not turn off the oven.
Peel potatoes and blend them along with cream and melted butter. Add salt, pepper and nutmeg. Mix all the ingredients well.
For Brussel sprouts, withdraw their core and separate carefully their leaves one by one.
Pour some olive oil, salt, pepper and mix well. Bake at 225°C until their edges have a reddish color for almost 10 minutes.
To continue with, remove them from the oven and low the heat at 180°C.
On a non – sticky frying pan, pour some olive oil and cook the hake fillets core for 2 – 3 minutes each side.
Afterwards, place hake fillets core into oven for 8 – 10 minutes.
While they are baking, prepare vinaigrette sauce. Mix all the ingredients for vinaigrette sauce until it is a thick sauce.

Serve on a plate, some sweet potatoes mash, Brussels sprouts, and hake fillets core. Pour on top of hake fillets core some of the vinaigrette sauce and enjoy.  

Recipe for 4 people
Ingredients:
1 packaging of hake fillets core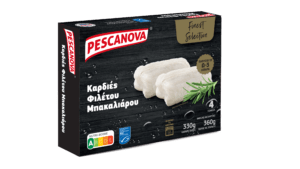 4 medium sweet potatoes
70gr. butter melted
60gr. heavy cream
Salt
Pepper
1/4 teaspoon of nutmeg
250gr. Brussels sprouts
Olive oil
Chives for serving
Vinaigrette sauce
1/2 teaspoon honey
1 teaspoon apple vinegar
6 spoons olive oil
1-2 spoons lemon juice
Peel of lemon