Recipes Festive
Octopus in the oven by Argiro
Μελωμένο χταποδάκι με τσακιστές πατάτες! Γιατί..λείπει η Pescanova από τη Σαρακοστή; Δεν λείπει!


1 hour 20 min

Intermediate
For octopus: 
Put in a small pot all the ingredients: onions, fennel cut in 4 pieces, garlic cloves, cherry tomatoes, parsley spray, oregano and thyme.
Add bay leaves and pepper grains.
On top of these, add octopus. Pour olive oil and vinegar.
Cover the pot very well.
Put the pot in a medium heat for 50′ until it is soft. Check with a knife if octopus is gentle.
On half of the boiling procedure, octopus will produce many liquids, but do not worry because  it will be vanished.
Put potatoes in a baking sheet and add 2 -3 tbsp olive oil, salt and pepper.
Add 2 garlic cloves between them, thyme and oregano.
On top of the potatoes, place the octopus with the vegetables.
Pour with the liquids from the pot. If you like, add some hot pepper.
Bake this food in oven at 200°C  on air function for 20′ – 25′, until potatoes absorb all liquids.
Optionally, sparkle with parsley for serving.
For potatoes: 
Wash them really well and boil them in salted water for 15′ .
Boiling time will be 15′  – 20′, depends on the size of the potatoes.
When they are ready, remove them and press them down, until they are broken.

Recipe for 4 people
Ingredients:
For the octopus:
1 ολόκληρο χταπόδι Pescanova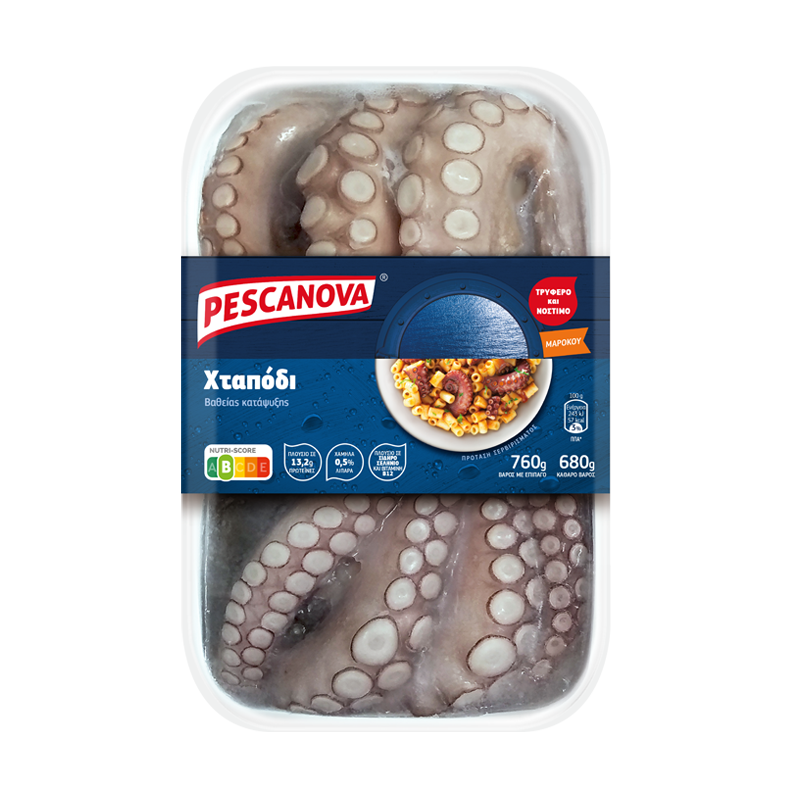 6 small onions
1 small fennel
4 garlic cloves
1 bay leaf
2 parsley sprays
5-6 pepper grains
Oregano and Thyme
4 tbsp. olive oil
1 tbsp. vinegar balsamic
5-6 cherry tomatoes
For potatoes:
500 γρ. baby potatoes
3 tbsp olive oil
2 garlic cloves
2-3 oregano or thyme
Salt
Pepper
1 chilly pepper