Recipes Festive
Shrimp spaghetti by Argiro

60 min

Intermediate
For shrimp spaghetti: 
Remove the shell and the intestines from the shrimp. Leave aside some of the shrimp – heads.
With these heads and sells, we make a broth with vegetables to boost the shrimp taste in our spaghetti.
Heat olive oil in a deep pan.
Saute shrimps for 1 – 1/2′ until they are blushed.
Remove shrimps and cover them in another plate, to keep them warm.
In the same olive oil, sauté add onion and chopped fennel.
Keep sautéing your ingredients, but do not let onion change color.
Add chopped garlic, and cherry tomatoes, cut in half.
Sauté and mix for 1 – 2 minutes.
Add ouzo and keep mixing, until shrimp sauce is glazed.
Add grated tomatoes for and shrimp broth.
Boil this sauce for 10 minutes, on hot fire until this mix is sweet and soft.
Add salt and pepper.
At the same time, boil your spaghetti for 2 minutes less than the time that it is on its packaging.
While spaghetti is still hot, put them into the tomato sauce and boil it there for 1-2 minutes more.
Finally, add your marinated shrimps into the spaghetti.
Keep boiling for 1 -2 minutes. If needed, add 2 – 3 spoons of broth.
Pour olive oil on top and withdraw from the heat.
For your serving, sprinkle chopped parsley on top.
For shrimp broth: 
Use shells and heads from shrimps to cook an amazing broth.
In a small pan, add olive oil and sauté shrimp heads for 2′.
Add: 1/2 onion, 1/2 carrot, 1 garlic clove, 1/2 celery, 1 leek hull, 1 fennel hull, and sauté them all.
Add: 1/2 tbsp. tomato paste or 2 -3 cherry tomatoes and stir them for 1′.
Pour with a cognac shot.
Add 1/2 liter of hot water, some pepper, 1 bay leaf, thyme, and 2 – 3 parsley.
Boil this broth for 30′.

Recipe for 4 people
Ingredients:
Ingredients for spaghetti:
1 package of Γάμπαρη Αργεντινής Pescanova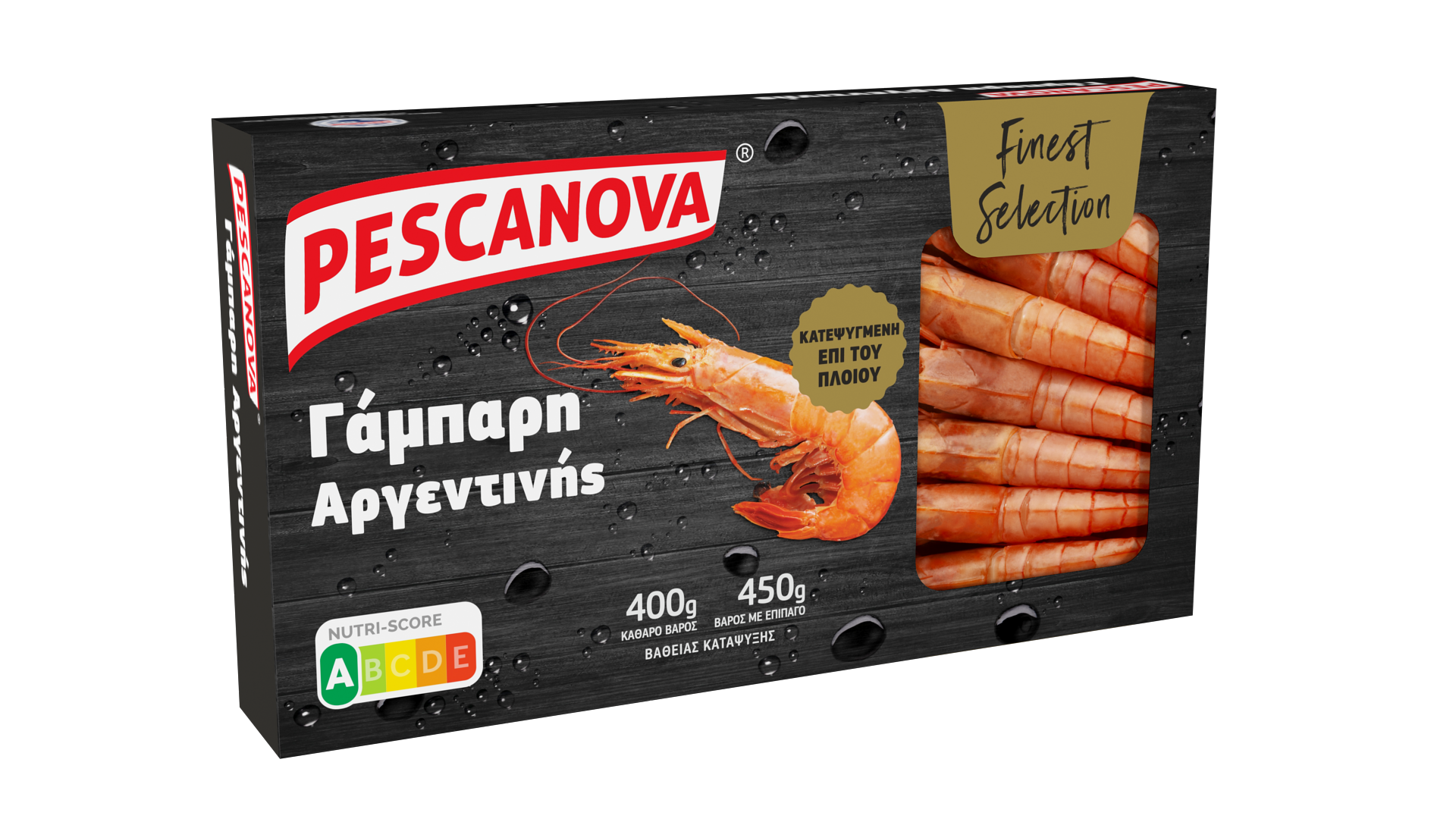 40 ml olive oil 
1/2 chopped onion
1/2 chopped fennel
1 chopped garlic clove
10 (300 γρ.) cherry tomatoes (cut in half)
300 γρ. grated tomato
1 tbsp. chopped parsley
50 ml ouzo
300 ml shrimp broth
Salt
Olive oil
Pepper
Ingredients for shrimp broth:
Head and shells of shrimp
20 ml olive oil
1 piece of onion with its hull
1 garlic clove with its hull
1 piece of carrot with its hull
1 /2 celery
1/2 leaf of leek
1/4 fennel
3 cherry tomatoes
100 ml cognac or brandy
1/2 lt hot water
5-6 pepper grains
3-4 parsley
1 bay leaf