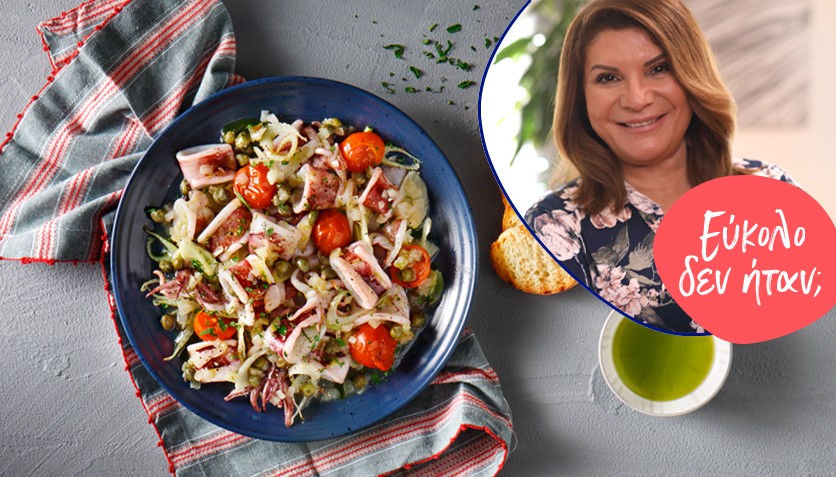 Recipes Καλαμάρι & Θράψαλο
Squids with finocchio and wine dressing

20 min

Beginner
Place squids on an absorbent paper until they are completely dried off.
Put them on a tray and pour some olive oil drops on top of them. Add some salt and pepper.
Heat olive oil in a deep frying pan. Add chopped onion and sauté for 4 -5 minutes.
Afterwards, add a garlic clove and keep sauteing for 1 more minute.
Put finocchio in thin slices and sauté for 2 minutes.
After that, add squids and sauté them for 2 minutes. Pour wine and wait until it is evaporated.
Continue with adding cherry tomatoes and caper. Wait for 2 minutes until sauce is thick.
Check salt and pepper.
Withdraw from fire and add parsley.
For serving:
Top with lemon and toasted bread.
If you want, add some drops of green oil of parsley.
For parsley oil:
Use 1/2 parsley and 150ml olive oil.
Wash and withdraw parsley stems and boil them for 1 minute.
After boiling, put it on an absorbent paper and smash it.
Place this oil in a strainer and keep it in the fridge.

Recipe for 4 people
Ingredients:
500 grams squid Pescanova
30 ml olive oil
1 medium onion chopped
1 smashed garlic clove
1 finocchio in thin slices
6 cherry tomatoes cut in half
50 ml white dry wine
1 tbsp caper
1 tbsp parsley chopped
Salt
Pepper
For serving
Lemon
Toasted bread
Some oil parsley (optional)